Bathrooms
Building work
Carpentry
Damp proofing
Decorating
Fences and fencing
Flooring
Gates, panels & posts
General Repairs
Glass replacement
Gutters
Handyman tasks
Holiday Home Management
Home improvement
Interior refurbishment
Key holding service
Kitchens
Lock replacement
Loft conversions
Sash Window repairs
Second Home help
Security Checks
Soffits, fascia boards
Odd jobs
Painting
Roof repairs
Rubbish clearance
Tiling
Windows
... and much more...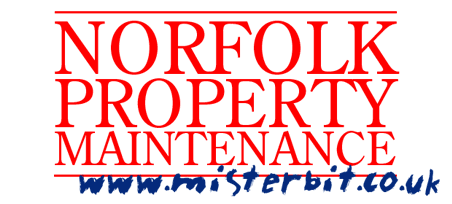 Mobile 07771 874997
Tel (01328) 713002
Call Patrick Weston at Norfolk Property Maintenance for the complete property maintenance and repair service in and around Wells-next-the-Sea and along the North Norfolk coast. Born and bred Norfolk craftsmen, we're your local service no matter what you need or when you need it... call us 24-hour for lock and window replacement emergency service. We've been decorating, fixing and improving homes and commercial properties, shops and offices in our area for years and have detailed local knowledge and expertise to source the right materials or find the right people for a specialist job.
As builders and carpenters, we can build and fit kitchens and bathrooms or sheds, carry out full refurbishments and conversions or simply fix nagging little problems like damaged gates, leaking gutters or worn out tiling or help with flat-pack furniture assembly or applicance installation.
While much of our work is for long-time local residents and businesses, we're increasingly working with people who have holiday properties or second homes in the area. We're happy to act as a local key-holder, to make regular checks on your home while you're away and to manage or fix things as needs be, such as gutters or damaged windows or gates. Try us too if you'd like us to arrange cleaning, laundry, welcome packs or just air the place for you before a visit.
Binham
Blakeney
Burnham Market
Burnham Thorpe
Burnham Overy Staithe
Dereham
Docking
Egmere
Fakenham
Field Dalling
Holkham
Holt
Langham
North Creake
Pinewoods campsite
Sculthorpe
South Creake
Stiffkey
Thursford
Walsingham
Warham
Wells-next-the-Sea
Wighton
... and all around North Norfolk